(Enterobiasis, Roundworm)
Definition
A pinworm infection happens when a person has pinworm parasites living in the intestine.
The Intestines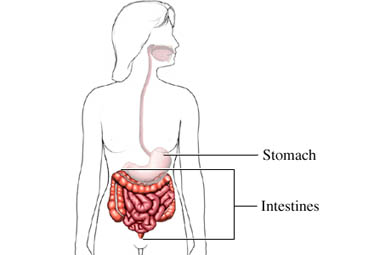 Copyright © 2002 Nucleus Communications, Inc. All rights reserved.
Causes
The infection is caused by a specific type of small, thin, white roundworm. They look like a piece of thread and are about the size of a staple.
The infection spreads when a person eats the eggs of the worm. This can happen from contact with the stool of an infected person. It can also happen by touching clothing, bedding, food, or other items that contain them.
Risk Factors
This problem is more common in children under 14 years of age. Other things that may raise the risk are:
Contact with a person who has them—usually another child or family member
Contact with clothing, bedding, or objects that have pinworms on them
Regular exposure to schools, daycare centers, and other places where pinworms are found
Symptoms
Most people do not have symptoms. Those who do may have:
Itching and scratching in the anal area that may be worse at night
Problems sleeping
Diagnosis
The doctor will ask about your symptoms and health history. A physical exam will be done. The doctor may see the pinworms in the area between the anus and genitals. This is enough to make the diagnosis.
Other people may need a tape test to look for pinworm eggs. A person may be asked to do the test at night when the pinworms are most active. A piece of clear tape is placed over the anus and removed. Any eggs will appear on the tape.
The doctor may also look for eggs by taking samples from under a person's fingernails.
Prevention
To lower the risk of infection:
Wash hands thoroughly after using the toilet, changing diapers, and before cooking or eating.
Keep fingernails short and do not bite them.
Do not scratch the area between the anus and genitals.
Bathe regularly.
Wash underwear regularly.
References
Enterobiasis. EBSCO DynaMed website. Available at: https://www.dynamed.com/condition/enterobiasis-pinworm-infection. Accessed November 25, 2020.
Parasites—enterobiasis (also known as pinworm infection). Centers for Disease Control and Prevention website. Available at: https://www.cdc.gov/parasites/pinworm. Accessed November 25, 2020.
Pinworm infestation. Merck Manual Professional Version website. Available at: https://www.merckmanuals.com/professional/infectious-diseases/nematodes-roundworms/pinworm-infestation. Accessed November 25, 2020.
Truscott J, Abebe A, et al. Recognizing common parasitic infestations. JAAPA. 2017 May;30(5):1-6.
Revision Information
Reviewer: EBSCO Medical Review Board Marcin Chwistek, MD
Review Date: 09/2020
Update Date: 04/23/2021