Definition
A craniotomy removes part of the skull to access the brain for surgery.
Craniotomy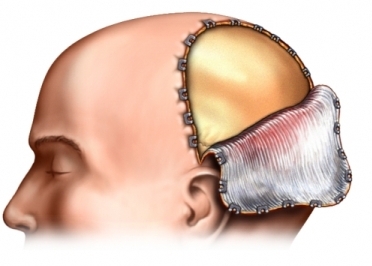 Copyright © Nucleus Medical Media, Inc.
Reasons for Procedure
The most common reasons for a craniotomy are:
Blood clot in the brain
Blood vessel problems with the brain
Nerve disorders
Brain swelling
Brain infection
Possible Complications
Problems are rare, but all procedures have some risk. The doctor will go over some problems that could happen, such as:
Excess bleeding
Problems from anesthesia, such as wheezing or sore throat
Infection
Blood clots
Brain swelling
Damage to the brain which may cause:
Things that may raise the risk of problems are:
What to Expect
Prior to Procedure
The surgical team may meet with you to talk about:
Anesthesia options
Any allergies you may have
Current medicines, herbs, and supplements that you take and whether you need to stop taking them before surgery
Fasting before surgery, such as avoiding food or drink after midnight the night before
Arranging for a ride to and from surgery
Tests that will need to be done before surgery, such as a images of the brain
Anesthesia
The doctor may give:
Description of Procedure
An incision will be made in the scalp. Part of the skull will be removed. The tissue that covers the brain will be opened. The procedure that is done next depends on the reason for the craniotomy. The tissue that covers the brain will be closed and stitched. The skull piece will be returned to its spot. Staples or stitches will be used to close the area. A bandage will be wrapped around the head.
How Long Will It Take?
It will take several hours. It depends on the reason for the surgery.
Will It Hurt?
Pain and swelling are common in the first week. Medicine and home care help.
Average Hospital Stay
The usual length of stay is 3 to 7 days. If you have any problems, you may need to stay longer.
Post-procedure Care
At the Hospital
Right after the procedure, the staff may:
Give you medicine to ease pain and lower the risk of problems like blood clots and seizures
Take steps to prevent pressure buildup in the brain
Ask you to walk around to improve bloodflow
At Home
It can take a month or more to fully heal. Physical activity will be limited during this time. You will need to ask for help with daily activities and delay return to work.
Call Your Doctor
Call your doctor if any of these occur:
Signs of infection, such as fever and chills
Pain that you cannot control with medicine
Redness, swelling, a lot of bleeding, or any discharge from the incision
Headache that does not go away
Nausea and vomiting
Changes in balance, strength, or movement
Changes in vision
Loss of bladder or bowel function
Problems with thinking
Numbness, tingling, or weakness in the face, arms, or legs
Stiff neck
Call for medical help right away if you have:
Seizures
Shortness of breath
Chest pain
Loss of consciousness
If you think you have an emergency, call for medical help right away.
References
Craniotomy. Johns Hopkins Medicine website. Available at: https://www.hopkinsmedicine.org/health/treatment-tests-and-therapies/craniotomy. Accessed July 20, 2021.
Lukas RV, Mrugala MM. Pivotal therapeutic trials for infiltrating gliomas and how they affect clinical practice. Neurooncol Pract . 2017 Dec;4(4):209-219. doi: 10.1093/nop/npw016.
Young JS, Chmura SJ, et al. Management of glioblastoma in elderly patients. J Neurol Sci. 2017;380:250-255.
Your surgery guide: Information about your craniotomy or biopsy for a brain tumor. Cedars Sinai Medical Center website. Available at: https://www.cedars-sinai.org/programs/neurology-neurosurgery/clinical/brain-tumor/surgery-guide.html. Accessed July 19, 2021.
Revision Information
Reviewer: EBSCO Medical Review Board Rimas Lukas, MD
Review Date: 07/2021
Update Date: 07/20/2021