Definition
A colposcopy is a close-up exam of the cervix. It is done with a tool called the colposcope. The cervix is the lower part of the uterus.
Female Reproductive Organs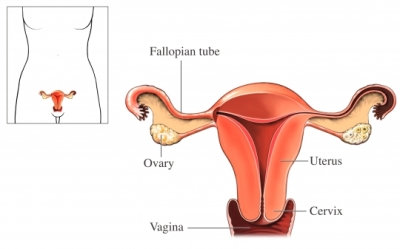 Copyright © Nucleus Medical Media, Inc.
Reasons for Procedure
Colposcopy is usually done after one of the following:
The exam can help to:
Help diagnose cervical cancer or precancerous changes
Give more information about abnormal cells found on a pap smear
Locate where a tissue biopsy should be done
Monitor treatment of changes of the cervix
Allow a visual exam of the cervix, vaginal walls, or vulva
Possible Complications
Complications are rare. But, no procedure is completely free of risk. The care team will talk about possible problems. These may include:
What to Expect
Prior to Procedure
In the 24 hours before the procedure, your doctor may advise you to:
Avoid sexual intercourse
Avoid using medication or creams in the vagina
Anesthesia
The cervix may be numbed with a local anesthetic. It may not be needed.
Description of the Procedure
It will start like a regular pelvic exam. A device called a speculum will be inserted into the vagina. The speculum will gently spread apart the vaginal walls. The scope will be placed at the opening of the vagina. Then, the cervix will be wiped with a solution. This will make it easier to see abnormal areas. The cervix and vagina will be examined closely. A small sample of tissue may also be taken. Once the doctor is done the scope will be removed. Then the speculum will be closed and removed.
How Long Will It Take?
About 5 to 10 minutes
How Much Will It Hurt?
It is usually painless. You may feel a slight pinch and mild cramping if a sample is removed.
Post-procedure Care
The area will need to heal for about a week if a sample was removed. This may need sanitary pads for a few days and avoid sex or tampon use.
The doctor will talk about next steps which may include other tests or treatment.
Call Your Doctor
Contact your doctor if your recovery is not progressing as expected or you develop complications, such as:
Heavy bleeding
Fever, chills
Severe pain
Bad-smelling vaginal discharge
If you think you have an emergency, call for emergency medical services right away.
References
American Congress of Obstetrics and Gynecology. Practice Bulletin No. 140: management of abnormal cervical cancer screening test results and cervical cancer precursors. Obstet Gynecol. 2013;122(6):1338-1367.
Cervical cancer—colposcopy. American Academy of Family Physicians Family Doctor website. Available at: http://familydoctor.org/familydoctor/en/diseases-conditions/cervical-cancer/diagnosis-tests/colposcopy.html. Accessed December 13, 2020.
Colposcopy. American Congress of Obstetricians and Gynecologists website. Available at: http://www.acog.org/~/media/For%20Patients/faq135.pdf?dmc=1&ts=20121219T1514556583. Accessed December 13, 2020.