(Stuck Shoulder Delivery)
Definition
Shoulder dystocia is when the baby's shoulders become stuck during birth. This is an emergency that can cause serious problems.
Most babies will be born safely with some help. Sometimes the baby may be stuck in the birth canal too long. That can cause problems for the baby, such as:
Lack of oxygen
Broken arm or collarbone
Arm nerve damage
It can also cause problems for the mother, such as:
Tearing or bruising of the cervix, rectum, or vagina
Bruising to the bladder
Severe bleeding
Shoulder Dystocia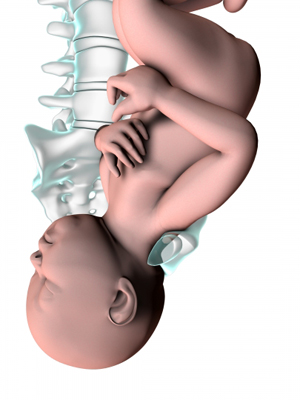 The baby's shoulder is lodged behind the mother's pubic bone.
Copyright © Nucleus Medical Media, Inc.
Causes
Shoulder dystocia is caused by:
Baby's shoulders are too wide—larger babies are common in women with diabetes or late-term pregnancies
The pelvic opening is too small for child
One or both could happen during labor.
Narrow Pelvic Opening
Copyright © Nucleus Medical Media, Inc.
Risk Factors
Things that may increase a baby's chance of shoulder dystocia include:
Mother has diabetes
Mother is significantly overweight
Mother has small stature which may mean small pelvis
A very large baby
Shoulder dystocia in previous birth
Diagnosis
The doctor or midwife will know when the birth process stops after the head is born.
Prenatal tests will estimate the size of the fetus and the pelvis. These tests may show a risk for shoulder dystocia.
An ultrasound may be done before labor. The doctor will be able to see if the baby is too large to fit safely through the birth canal. A vaginal delivery may not be a safe method if the baby is too large.
Treatment
The goal of treatment is to get the baby unstuck as fast as possible. This will allow the vaginal birth to continue. The doctor or midwife may:
Reposition the mother
Reposition the baby to try to move the shoulder away from the bone
A C-section may be needed if the baby remains stuck in the birth canal.
Prevention
Shoulder dystocia cannot always be prevented. If you have a high risk of shoulder dystocia the doctor may offer:
Early induced labor—the baby will be smaller
Planned C-section
References
Menticoglou, S. Shoulder dystocia: incidence, mechanisms, and management strategies. Int J Womens Health, 2018; 10: 723-732.
Shoulder dystocia. EBSCO DynaMed website. Available at: https://www.dynamed.com/condition/shoulder-dystocia  . Accessed March 21, 2022.
World Health Organization. Managing complications in pregnancy and childbirth: a guide for midwives and doctors. World Health Organization website. Available at: http://whqlibdoc.who.int/publications/2007/9241545879%5Feng.pdf. Accessed March 21, 2022.