(Osteonecrosis of the Hip; Avascular Necrosis of the Hip; Ischemic Necrosis of the Hip; Osteochondritis Dissecans of the Hip)
Definition
Aseptic necrosis of the hip is the death of bone tissue in the head of the thigh bone (femur) due to poor blood supply.
Legg-Calvé-Perthes disease is a type of aseptic necrosis in children. It affects the growth plate at the upper end of the thigh bone.
The Hip Joint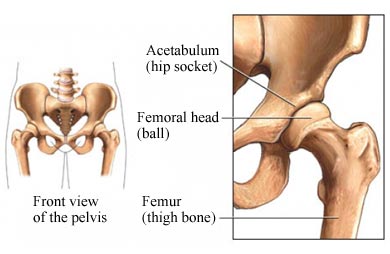 Copyright © Nucleus Medical Media, Inc.
Causes
Aseptic necrosis of the hip is caused by any event or health problem that blocks blood supply to the head of the femur.
Risk Factors
This problem is more common in people who are between 30 and 50 years of age. It is also more common in men. Some things that may raise the risk are:
Corticosteroid use
Smoking
Hip trauma, such as hip fracture, hip dislocation, and prior hip surgery
Cushing disease
Blood clotting disorders, such as thrombophilia
Systemic lupus erythematosus (SLE)
Kidney failure
Symptoms
There may not be symptoms in the early stage. People who do have problems may have:
Hip pain
Problems moving the hip
Groin pain and throbbing that may be worse when bearing weight
Buttock, thigh, and knee pain
Diagnosis
The doctor will ask about your symptoms and health history. A physical exam will be done.
Images may be taken of the hip. This can be done with:
Treatment
The goal of treatment is to ease symptoms and stop damage. Treatments may include:
Limiting activities that cause pain
Using a cane or walker to keep weight off the hip
Physical therapy to help with strength, flexibility, and range of motion
Avoiding or limiting alcohol and smoking
Other choices are:
Medication
Medicine may be given to:
Ease pain
Prevent loss of bone mass
Prevent blood clots
Improve blood flow
Surgery
Some people may need surgery. Some options are:
Decompression of the inside of the bone (with or without bone grafts)
Hip replacement
Hip resurfacing
Realigning the bone
References
Amanatullah DF, Strauss EJ, et al. Current management options for osteonecrosis of the femoral head: part 1, diagnosis and nonoperative management. Am J Orthop (Belle Mead NJ). 2011 Sep;40(9):E186-192.
Osteonecrosis of the hip in adults. EBSCO DynaMed website. Available at:  https://www.dynamed.com/condition/osteonecrosis-of-the-hip-in-adults . Updated December 6, 2017. Accessed May 14, 2020.