(Dislocated Hip; Dislocation, Hip)
Definition
A hip dislocation is when the ball of the thigh bone moves out of place within the socket of the pelvic bone. It is not common.
The Hip Joint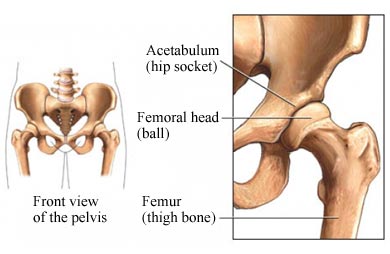 Copyright © Nucleus Medical Media, Inc.
Causes
A great deal of force is required to dislocate the hip. Common causes are:
Motor vehicle accidents
Falls
A collision
Risk Factors
Things that may raise the risk of this problem are:
Prior hip replacement surgery
Doing activities that involve heights, such as being on a ladder
Playing certain sports, such as football, rugby, skiing, and snowboarding
Health problems that result in falls, such as weak muscles
Not wearing a seatbelt
Having an abnormal hip joint
Symptoms
A hip dislocation can cause:
Pain in the hip, especially when trying to move the leg
Pain that spreads to the legs, knees, and back
One leg that looks shorter than the other
Problems walking
Diagnosis
The doctor will ask about symptoms, past health, and injury. A hip and leg exam will be done. This is often enough to make the diagnosis. Images of the hip will be done to look for possible fractures or damage to soft tissue. Images will be taken with:
Treatment
The goals of treatment are to put the bones back in place. Medicine will be given to help decrease pain. A doctor will move the bones to get the hip back into place. Tests will be done to make sure blood flow and nerves are not affected.
Surgery may be needed if there is a fracture or damage to nerves and blood vessels.
It may take 2 to 3 months to fully heal. Movement may be limited for a few weeks to prevent another dislocation. Crutches or walkers may be needed for support. Physical therapy may also be needed to help regain strength and range of motion.
References
Hendey GW, Avila A. The Captain Morgan technique for the reduction of the dislocated hip. Ann Emerg Med. 2011 Dec;58(6):536-540.
Hip dislocation—emergency management. EBSCO DynaMed website Available at: https://www.dynamed.com/management/hip-dislocation-emergency-management. Accessed February 12, 2021.
Hip dislocation. Ortho Info—American Academy of Orthopaedic Surgeons website. Available at: https://orthoinfo.aaos.org/en/diseases--conditions/hip-dislocation. Accessed February 12, 2021.
Hip dislocations. Patient UK website. Available at: http://www.patient.co.uk/doctor/hip-dislocations. Accessed February 12, 2021.