Definition
Spondylolysis is a stress fracture in one of the vertebrae (spinal bones) in the lower back. It may be on one or both sides.
Early treatment can improve outcomes.
Spondylolysis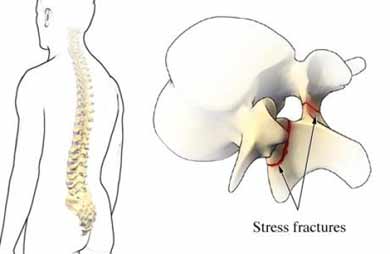 Copyright © Nucleus Medical Media, Inc.
Causes
This problem is caused by doing repetitive tasks, such as flexing, extending, or rotating the lower back. This leads to trauma that happens over time.
Risk Factors
This problem is more common in young adults, especially those who do sports. It is also more common in men.
Other things that may raise the risk are:
Having other family members with this health problem
Playing sports, such as gymnastics, soccer, and basketball
Symptoms
Most people do not have symptoms. Others may have:
Low back pain
Pain that is worse with activity and better with rest
Muscle pain
Pain that spreads to the buttocks and the back of the thighs
Diagnosis
The doctor will ask about your symptoms and health history. A physical exam will be done. It will focus on the back.
Images of the spine may be taken. This can be done with:
Treatment
The goal of treatment is to manage symptoms and promote healing. Medicines will be given to ease pain. Other choices are:
Avoiding physical activities that put stress on the back
Wearing a brace to limit movement
Physical therapy to promote strength, flexibility, and range of motion
People who are not helped by these methods may need surgery. Choices are:
Spinal fusion to fuse two vertebrae together
Using a strong screw to hold the fracture together
References
Goetzinger S, Courtney S, et al. Spondylolysis in young athletes: An overview emphasizing non operative management. J Sports Med (Hindawi Publ Corp). 2020;2020:9235958. Published 2020 Jan 21.
Lumbar spondylolysis. EBSCO DynaMed website. Available at: https://www.dynamed.com/condition/lumbar-spondylolysis. Accessed February 17, 2021.
Nitta A, Sakai T, et al. Prevalence of Symptomatic Lumbar Spondylolysis in Pediatric Patients. Orthopedics. 2016;39(3):e434-e437.
Overley SC, McAnany SJ, Andelman S, et al. Return to play in adolescent athletes with symptomatic spondylolysis without listhesis: A Meta-analysis. Global Spine J. 2018;8(2):190-197.
Selhorst M, Allen M, et al. Rehabilitation considerations for spondylolysis in the youth athlete. Int J Sports Phys Ther. 2020;15(2):287-300.