Definition
The cervical spine is the part of the spine located in the neck. The spinal cord sits inside a tunnel created by the bones that make up the spine. It is also protected by a soft layer of tissue called the dura. The epidural space is the area between the tunnel and the dura layer of the spinal cord.
An epidural injection delivers medicine into the epidural space. The medicine may be an anesthetic to numb pain and a steroid to ease swelling and irritation.
Cervical Spine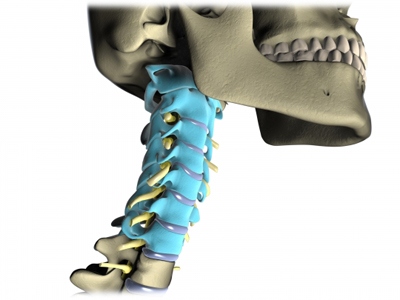 Copyright © Nucleus Medical Media, Inc.
Reasons for Procedure
This procedure is done to ease:
Pain in the neck when other methods have not helped
Swelling around the nerves exiting the spinal cord
The injection may provide relief for up to two months. It may also help manage these problems until the reason for the pain or swelling has healed.
Possible Complications
Problems are rare, but all procedures have some risk. The doctor will go over some problems that could happen, such as:
Excess bleeding
Fluid leaking in the spinal canal
Problems from anesthesia, such as wheezing or sore throat
Infection
Nerve damage
Things that may raise the risk of problems are:
What to Expect
Prior to Procedure
The care team may meet with you to talk about:
Anesthesia options
Any allergies you may have
Current medicines, herbs, and supplements that you take and whether you need to stop taking them before the injection
Fasting before the injection, such as avoiding food or drink in the hours before it
Whether you need a ride to and from the injection
Tests that will need to be done before the injection, such images
Anesthesia
You will be awake. The doctor may give:
A sedative—you will feel relaxed
Local anesthesia—the area will be numbed
Description of Procedure
You will be asked to lie on your stomach or side on an x-ray table or sit in a chair. Contrast material will be injected. It will help highlight the area on an x-ray to help guide the needle. The steroid will be injected when the doctor has reached the epidural space. A bandage will be placed over the area.
How Long Will It Take?
The injection only takes a few minutes. The entire procedure may be 30 to 60 minutes.
Will It Hurt?
You may have some soreness at the injection site. It will go away in about a day.
Post-procedure Care
At the Care Center
The care team will monitor you for any changes.
At Home
Physical activity will be limited for the first day or two. You can slowly return to normal activities.
Call Your Doctor
Call the doctor if you are not getting better or you have:
Signs of infection, such as fever or chills
Severe pain or headache
Redness, swelling, bleeding, or discharge from the injection
Increased arm weakness or numbness
Problems swallowing
If you think you have an emergency, call for medical help right away.
References
Cervical epidural. University of Wisconsin School of Medicine and Public Health Department of Radiology website. Available at: https://radiology.wisc.edu/documents/cervical-epidural. Accessed July 19, 2021.
Cervical radicular pain and radiculopathy. EBSCO DynaMed website. Available at: https://www.dynamed.com/condition/cervical-radicular-pain-and-radiculopathy. Accessed July 19, 2021.
Cervical radiculopathy: Non-operative treatments and cervical epidural steroid injection. Hospital for Special Surgery website. Available at: https://www.hss.edu/conditions%5Fcervical-radiculopathy-nonoperative-treatments-epidural.asp. Accessed July 19, 2021.
Epidermal injections. Radiology Info—Radiological Society of North America website. Available at: https://www.radiologyinfo.org/en/info/epidural. Accessed July 19, 2021.
Epidural steroid injection. EBSCO DynaMed Plus website. Available at: https://www.dynamed.com/procedure/epidural-steroid-injection. Accessed July 19, 2021.
Revision Information
Reviewer: EBSCO Medical Review Board Rimas Lukas, MD
Review Date: 07/2021
Update Date: 07/19/2021