(Osteotomy, Hip)
Definition
A hip osteotomy is surgery to cut, reshape, and reposition the bones of the pelvis or legs.
The Hip Joint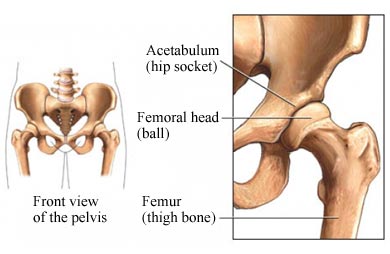 Copyright © Nucleus Medical Media, Inc.
Reasons for Procedure
This surgery is done when the hip bones do not fit together well. This can cause pain and make it hard to move. It can also lead to problems like arthritis.
It is most often done in children with health problems that affect the hip, such as cerebral palsy.
Possible Complications
Problems are rare, but all procedures have some risk. The doctor will go over some problems that could happen, such as:
Excess bleeding
Problems from anesthesia, such as wheezing or sore throat
Infection
Blood clots
Poor bone healing
Shortening of the leg
The ball of the hip does not fit well into the socket
Injuries to nerves or blood vessels
Things that may raise the risk of problems are:
Chronic diseases, such as diabetes or obesity
What to Expect
Prior to Procedure
The surgical team may meet with you to talk about:
Anesthesia options
Any allergies you may have
The medicines, herbs, and supplements that you take and whether you need to stop taking them before surgery
Fasting, such as avoiding food or drink after midnight the night before
Arranging a ride to and from surgery
Tests that will need to be done before surgery, such as images of the hip bones
Description of the Procedure
Several incisions will be made around the hip joint. Changes will be made to the bones. The leg and/or pelvic bones will need to be cut. A wedge of bone may be removed. This wedge will be attached to a new area and held in place with plates and screws. The cuts and wedge will allow the shape of the bone to be changed to position them into a better place. The incisions will be closed with stitches. Bandages will be placed over them.
How Long Will It Take?
How long it takes depends on the changes that need to be made. It may take 2 to 5 hours.
Will It Hurt?
Pain and swelling are common in the first 1 to 2 weeks. Medicine and home care can help.
Average Hospital Stay
You may be able to go home in 4 to 5 days. If you have problems, you may need to stay longer.
Post-procedure Care
At the Hospital
After the procedure, the staff may:
Give you pain medicine
Teach you how to use a walker or wheelchair
During your stay, staff will take steps to lower your chance of infection, such as:
Washing their hands
Wearing gloves or masks
Keeping your incisions covered
You can also lower your chance of infection by:
Washing your hands often and reminding visitors and staff to do the same
Reminding staff to wear gloves or masks
Not letting others touch your incisions
At Home
It will take a few weeks for the incisions to heal. Full recovery can take 3 to 6 months. Physical activity will need to be limited at first. You will need to ask for help with daily activities and delay your return to work.
Call Your Doctor
Call your doctor if you are not getting better or you have:
Signs of infection, such as fever and chills
Redness, swelling, more pain, a lot of bleeding, or any leaking from the incision
Pain that you cannot control with medicine
Cough, shortness of breath, or chest pain
Severe nausea or vomiting
Numbness, tingling, or loss of feeling in your leg, knee, or foot
If you think you have an emergency, call for medical help right away.
References
Dega osteotomy. Nemours, Alfred I DuPont Hospital for Children website. Available at: http://gait.aidi.udel.edu/procedures/dega%5Fosteotomy.pdf. Accessed July 17, 2020.
Dempsey ME, Karmazyn BK, et al; American College of Radiology. ACR Appropriateness Criteria on developmental dysplasia of the hip--child. ACR 2013 PDF.
Developmental dysplasia of the hip. EBSCO DynaMed website. Available at:  https://www.dynamed.com/condition/developmental-dysplasia-of-the-hip . Updated February 22, 2017. Accessed July 17, 2020.
Femoral derotational osteotomy. Nemours, Alfred I DuPont Hospital for Children website. Available at: http://gait.aidi.udel.edu/procedures/femoral%5Fosteotomy.pdf. Accessed July 17, 2020.